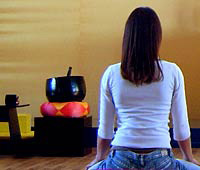 Meditation & Dharma Discussion
Dallas Shambhala is open!
Join us for Sunday Meditation and Dharma Discussion.
This "In Person" meditation is held onsite.
1:30PM: Opening chants, Meditation
2:30PM: Tea Break
2:45PM: Dharma Talk & Discussion
3:30PM: Close with Dedication of Merit

Everyone is welcome to join us for the meditation session
and the dharma discussion that follows.
We hope you are able to join us!
_______________________
We are located at
3839 W Kiest Blvd, Dallas, TX 75233
(In the woods: Use the small road to the East [Right] of
Oak Cliff Unitarian Universalist Church Building)

Respectfulness, Health and Safety are top priorities at our Center.
We encourage following the current CDC recommendations for the use of masks and social distancing.