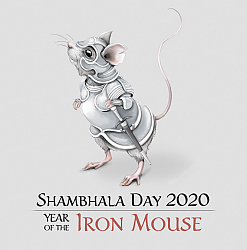 Shambhala Day Reception
Join us as we welcome the Shambhala New Year, when we will enter the Year of the Iron Mouse and welcome its qualities of adaptability, cleverness, and contentment. The mouse is the first symbol in the Asian astrological cycle, and is therefore associated with newness and beginnings. On this New Year's Day, we aspire to enter 2020 and Shambhala New Year with the spirit of a fresh start and a renewed trust in the basic goodness that connects us.

Shambhala's teachings have powerful and important principles to offer to the world - the teachings on our innate worthiness, as well as the nourishment and support of the Shambhala sangha that has been deeply meaningful to so many of us. No matter our point of view, these basic principles can be our common ground.
Despite the challenges facing our sangha and our world, Dallas Shambhala Center continues to open the doors and offer contemplative spaces and containers for community and personal practice. If your life is better because of what the Shambhala teachings and community has offered to your life, we invite you to welcome this new year with us and help us build a place of refuge and support.